WE REMOVE THEM FAST. 100% GUARANTEED
For Florida animal control, Rat Busters is your first and only call!  We specialize in rat removal, animal control, nuisance wildlife trapping and animal prevention services for your home or your business. Who Ya Gonna Call? Rat Busters!
Rats In Florida Attics
Rats in Florida attics spaces can really put a damper on life. We know that these hard to reach vermin need to be gotten rid of as soon as possible. We know from experience that rats in Florida attics are typically roof rats and these rats prefer living in places that they believe are safe. These spaces definitely include attics! There are many nesting rats in attic Florida homeowners can hear at night scampering above their heads in in their walls. Residents are advised to steer clear of the disease carrying rats and call to report the problem to the experts at Rat Busters immediately. These nesting rats can have a lot of babies quickly and then they will begin reproducing themselves.  Rats can be can be rather dangerous if you don't know what you are doing. Knowing Florida rats in attic are breeding is definitely something to be concerned about and if something is not done quickly, it is likely that the rat population will reach a point that you will have a big infestation in your home. Call Rat Busters for your FREE ESTIMATE now. 844-BYE-RATS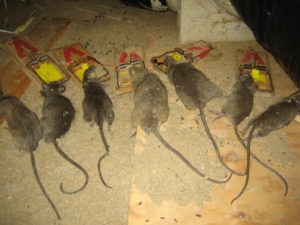 Rats In Florida Attics
Poisoning the rats might kill some of the rats, but the fact of the matter is that poisoning does not usually kill all rats in Florida attics and the smell of rats attracts other rats. When some of the rats are poisoned, new ones will simply come and take their places. The problem with using poison on these pests is that when they die, their bodies tend to stick around because there is no telling where they will expire. Sometimes their dead bodies will be so deep in the attic or walls of your home that they are nearly impossible to recover, meaning the bodies will rot and the smell is absolutely terrible! This is a real problem when trying to make your home a happy and healthy place to live.
It's easy to call Rat Busters to prevent the rats from entering your home and we will use the best traps in the best locations to get rid of your rat infestation. Voila! No more rats in Florida attics! Our methods are proven and extremely effective and kill the rats as soon as they are trapped. These traps also are great because once the rat is trapped, we come back and remove them and reset the traps until all of the rats are eliminated! In combination with our exclusion services, rat traps are the most effective and easy to use strategy of getting rid of rats, it simply makes sense that we use traps as opposed to using chemicals.
So when you have an infestation in your attic in Florida, please know that we are the experts to call! We're aware of how big of a threat these pests can be and we understand that getting rid of them as soon as possible to more than likely a priority for you and your family. If you or someone you know found rats in attic in Florida don't hesitate to contact your friends at Rat Busters. Call 844-BYE-RATS now and say goodbye to the rats in your home for good!
Who Ya Gonna Call? Rat Busters!
When you call Rat Busters, you will chat with one of our friendly customer service specialists – we are available 24/7 so call us now! We will give immediate help if you find a living or dead animal in your home or business. Our Licensed & Insured Wildlife Management Specialists are available for emergency service at 844-293-7287.